The Dairy at Knuthenlund
My great-grandfather, dairyman J.P.H. Hansen, was awarded for his white cheese in 1903. That enabled him to buy Knuthenlund Estate 10 years later.
When I took over the estate in 2006, I decided after careful consideration to convert the operation to organic production. The goal was to create a new series of products, based on the good growing conditions and the mild climate that we have on Lolland.
The principle is called "from farm to table".
It is therefore also the estate's own stock of free-range, organic dairy sheep and original Danish Red cows that are the basis of Knuthenlund's dairy products. The animals graze in Knuthenlund's lush fields 150 days per year. The fields are sown with various herbs that help give the milk a full, round flavour.
Subsequently the milk is carefully processed according to traditional recipes and craft methods in the estate's own dairy by our talented staff consisting of production manager Kim Kej and dairy staff Ronnie Sølvskov and Sussi Pedersen, in collaboration with my husband, dairy manager Jesper Hovmand-Simonsen.
We take the utmost care, so we hope you can taste it.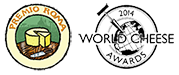 The Knuthenlund Cheese Awards
Hermans Arv Ewes brie

Year

Prize

World Cheese Awards
2015
Gold
Nordic Cheese Competition
2010
Gold
Premio Roma, Rome
2010
Gold
Nordic Cheese Competition
2011
Gold
Premio Roma, Rome
2011
Gold
Nordic Cheese Competition
2009
Silver
Nordic Cheese Competition
2011
Silver
Nordic Cheese Competition
2012
Silver
World Cheese Awards
2011
Silver
World Cheese Awards
2014
Silver
World Cheese Awards
2012
Bronze

Kirstines Gave Goats brie

Year

Prize

World Cheese Awards
2012
Gold
World Cheese Awards
2014
Gold
Nordic Cheese Competition
2010
Silver
World Cheese Awards
2010
Bronze

Simonsens Første Rødkit

Year

Prize

Nordic Cheese Competition
2010
Gold
World Cheese Awards
2010
Supergold
World Cheese Awards
2012
Bronze

White Cheese in Brine

Year

Prize

World Cheese Award
2015
Gold
Nordic Cheese Competition
2009
Silver
World Cheese Award
2011
Bronze
World Cheese Award
2013
Bronze
World Cheese Award
2014
Bronze

Goat unriped fresh cheese

Year

Prize

World Cheese Awards
2012
Silver

Stenhøjmark semi-hard ewe´s cheese

Year

Prize

Nordic Cheese Competition
2011
Gold
World Cheese Award
2011
Gold
Nordic Cheese Competition
2012
Bronze

Højholt hard cheese of a mixture of ewe´s and goat´s milk

Year

Prize

Nordic Cheese Competition
2012
Gold

Egemose hard goats cheese

Year

Prize

World Cheese Award
2010
Supergold
Nordic Cheese Competition
2010
Bronze

Lademark hard ewe´s cheese

Year

Prize

Nordic Cheese Competition
2011
Bronze

Ewe´s milk

Year

Prize

The Politikken Organic Gold
2009
Gold

Goat´s buttermilk

Year

Prize

The Politikken Organic Gold
2012
Gold

Other

Year

Became member of Guilde de Fromager
2011
Received the honorary diploma from The Gastonomic Academy
2009